Do you wish you could communicate better with your horse?
Do you wish you could have fun with your horse?
Or do you just want to lie around with him?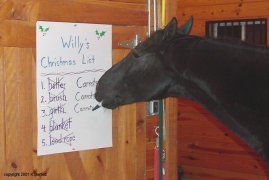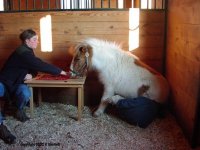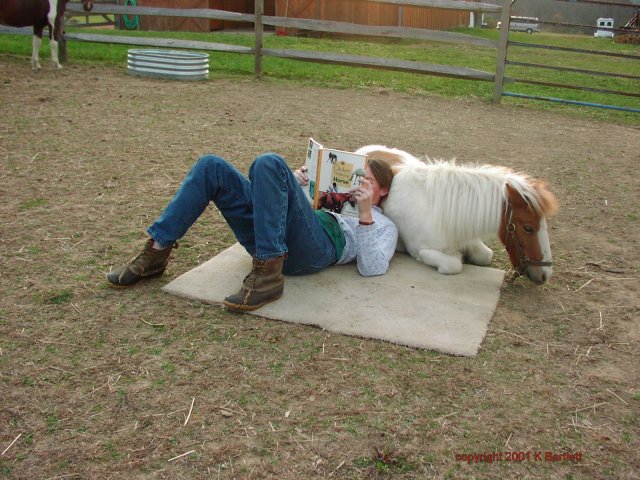 All these things are possible with a clicker trained horse. With clicker training, you can teach your horse all the skills he needs and have fun at the same time. With clicker training, your horse learns faster because he is actively trying to learn what you are trying to teach him. You are truly working together toward a common goal.
This site is set up as an educational site to help people learn about clicker training. You will find some basic information in the CLICKER BASICS, FAQ and GETTING STARTED sections. If you are already clicker training, then you will want to visit the articles section for more advanced topics.
-------------------------------------------------------------------------

Monthly News for February 2011
Welcome to the site. Those of you who have visited before may notice that the site looks different. Since I first wrote the site about seven years ago, I have been happily adding new information and it had gotten a bit hard to navigate around, especially if you were a first time visitor. So I have improved the menus so that you can get to specific articles directly instead of having to go through several pages to find them. My hope is that this will make the information more accessible.

If you are looking for a chance to immerse yourself in clicker training, consider attending Clicker Expo in March. Clicker Expo is a training conference with skilled trainers giving lectures and teaching classes on all aspects of clicker training. For more information, go to www.clickertraining.com. If you are in or near Texas, there is also the ORCA conference in February. For information on ORCA, you can go to http://orgs.unt.edu/orca/.


Training Tip: You can teach your horse more hind end awareness by doing matwork with the back feet or teaching it to back over a pole.
More Training Tips
| | | |
| --- | --- | --- |
| | Equine Clicker Training | |