Do you wish you could communicate better with your horse?
Do you wish you could have fun with your horse?
Or do you just want to lie around with him?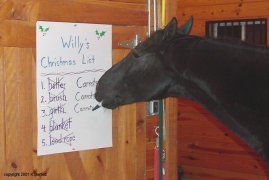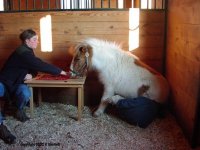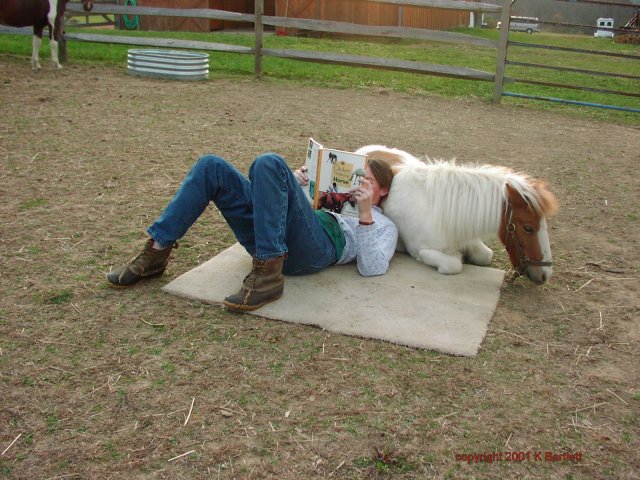 All these things are possible with a clicker trained horse. With clicker training, you can teach your horse all the skills he needs and have fun at the same time. With clicker training, your horse learns faster because he is actively trying to learn what you are trying to teach him. You are truly working together toward a common goal.
This site is set up as an educational site to help people learn about clicker training. You will find some basic information in the CLICKER BASICS, FAQ and GETTING STARTED sections. If you are already clicker training, then you will want to visit the articles section for more advanced topics. I also share training information on my blog: www.equineclickertraining.wordpress.com and my facebook page: Equine Clicker Training - Katie Bartlett.
-------------------------------------------------------------------------

Monthly News for January 2018
Happy New Year.
It's not too early to be thinking about the conferences. Two of my favorites are the Art and Science of Animal Training Conference and ClickerExpo. The Art and Science of Animal Training Conference (www.artandscienceofanimaltraining.org) will be held in Irving, Texas (near Dallas) on March 24-25, 2018. There are two ClickerExpo (www.clickerexpo.com) conferences in the US. The first one will be held in Southern California (Irvine) on Jan 19-21, 2018. The second one will be held in St. Louis, Missouri on March 16-18, 2018.
I had a great time teaching at the Vermont Summer Intensive, a 2 day clinic in Sheffield, Vermont taught by Jane Jackson, Marla Foreman and myself. We had a great group of students, great weather (except for some brief thunderstorms) and all learned a lot. This is a yearly event and I will post dates for next year sometime in the beginning of 2018.
After the intensive, I wrote an article about Alexandra Kurland's training progression from groundwork to riding. i wanted to write it becuase a lot of Alex's work is very detail oriented and focuses on individiual skills and exercises, and I find that students sometimes have a hard time seeing the big picture of how they all fit together. Hopefully this article will help you see why it's important to learn each new skill and give you a sense of how they will all come together. You can find the article on my articles page, under the Alexandra Kurland section (along with other material on single rein riding), or you can click here.
Katie
-------------------------------------------------------------------------

-------------------------------------------------------------------------
This site now has a facebook page that is where I will post updates about what's new on the site, share what I am doing with my own horses, and post other items of interest. The site is named Equine Clicker Training - Katie Bartlett. To go to it from here, you can click on the link below.

Blog
I also have a blog,
www.equineclickertraining.wordpress.com
, where I have been posting some of the longer articles
Training Tip: When teaching a horse head down, it is not uncommon for the horse to take a step forward as he drops his head. This is normal grazing behavior and just means it is his pattern. I find that teaching head lowering using a stationary target placed near the front feet often minimizes this tendency to combine foot movement with lowering the head.
More Training Tips
| | | |
| --- | --- | --- |
| | Equine Clicker Training | |