Additional Resources Page for the book: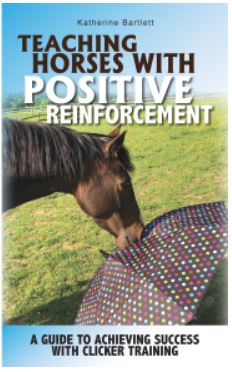 Teaching Horses with Positive Reinforcement

A Guide to Achieving Success with Clicker Training
This page is under development. I will be adding pictures, videos, and supplemental material as I have time. If you have a question about the book, please contact me at kabart315@gmail.com

Thank you.
Chapter 1: What is Clicker Training?
Recommended reading/viewing:
These are in addition to the references included in the book.
Lads Before the Wind by Karen Pryor: If you want to learn more about the early days of applied operant conditioning as used in animal training (outside the lab), this is a great book. Karen is an excellent writer who is knowledgeable, interesting, and easy to read.
Reaching the Animal Mind by Karen Pryor: This book was published in 2009 and takes a broader look at what we have learned about clicker training, how animals learn, and other advances in positive reinforcement training since the early days of clicker training. The book has its own website: http://reachingtheanimalmind.com/
Clicker training and TAGteach: This article in the online magazine, "The Horse" describes one of the newer applications of TAGteach (clicker training for people), which is teaching surgeons how to use surgical tools. Sharing information about how the principles of clicker training can be applied across all species can be a good way to encourage people to give clicker training a try. You can find the article at:
https://thehorse.com/159125/if-your-surgeon-was-clicker-trained-why-not-your-horse/
Karen Pryor at ABA: The Art and Science of Animal Training has made available the speech that Karen Pryor gave at the Association of Behavior Analysis International Convention in 1992. The speech is titled "If I Could Talk to the Animals: Reinforcement Interactions as Communication" and offers a glimpse into what behavior analysis was like in the early 1990's. A lot of the points that Karen raises are still important today, and you may find that some of them are useful when you are trying to explain why you choose to train with positive reinforcement.
What can you do with clicker training? Here are some of the more unusual applications
Train a guide horse for the blind: Ann Edie, a student of Alexandra Kurland, is legally blind. When her old guide dog retired and she had difficulty finding a new one, she and Alex decided to train a miniature horse to be her guide. Alex has chronicled the training on her website www.theclickercenter.com.
Using clicker training for conservation: At the Art and Science of Animal Training Conference in 2016, Ken Ramirez shared notes on some of the more unusual projects he has participated in. Topics included re-introducing wild animals, managing exotic animal populations, and using clicker training for management and husbandry with exotic species.
Chapter 2: Clicks, Treats, and What's in Between
Types of clickers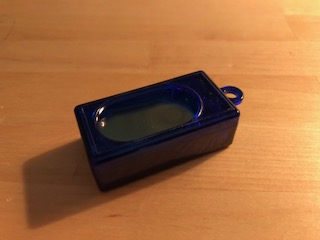 Standard "box" clicker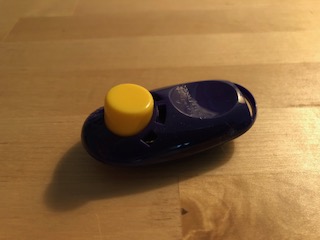 Karen Pryor "i-click"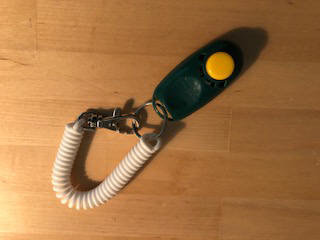 Karen Pryor i-click on wrist coil
Chapter 3: A Little Bit of Science
Recommended reading:
Behavior Analysis for Effective Teaching by Julie Vargas: This book's focus is on teaching human students but much of the content applies to teaching any species. If you are teaching other poeple to train, then you have to learn how to teach both types of students (human and horse) and this book contains some good information.
Chapter 4: Training Strategies
Chapter 5: Training Sessions
Chapter 6: Targeting
Types of targets:
target sticks

and disc cones
You can also combine disc cones and target sticks with traffic cones, as shown below.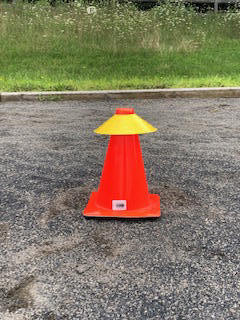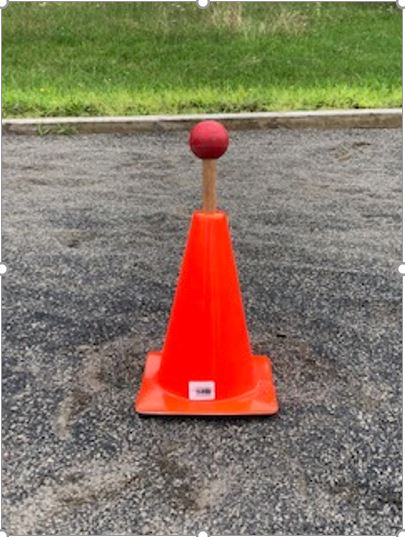 Marine buoys on dowels are another popular option (www.clickertraining.com):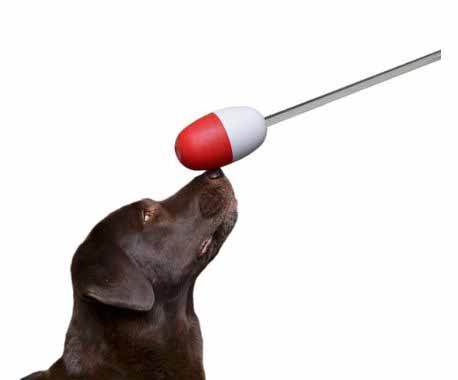 Examples of targeting as part of husbandry and medical behaviors:
Buster learns to use an inhaler
Tooth inspection blog with video link
Chapter 7: A Relaxed Stand
Chapter 8: Head Lowering
Chapter 9: Mat Work

Chapter 10: Backing

Chapter 11: Other First Behaviors

Chapter 12: Looking Forward
Notes:
CHAPTER 1: WHAT IS CLICKER TRAINING?

What is Clicker Training?
Dani Weinberg quote: Weinberg, Dani. 2006. Teaching People Teaching Dogs. (New York: Howln Moon Press), 27.
Dani Weinberg's website: http://home.earthlink.net/~hardpretzel/DaniDogPage.html
The Butterfly Project: https://www.clickertraining.com/the-butterfly-project
Training Pouched Rats to Detect Landmines: https://news.nationalgeographic.com/2015/10/151006-giant-rats-landmines-cambodia-science-animals/

Are There Different Styles of Clicker Training?
ClickerExpo: www.clickerexpo.com
Karen Pryor clicker training: www.clickertraining.com
Art and Science of Animal Training Conference: http://www.artandscienceofanimaltraining.org/conference/
Suggested resources on reading body language in horses:
Many resources are available on this subject but do be aware that they are based on the author's interpretation. Here are a few that I have found useful, as they describe the types of body language that we need to learn to observe.
Bennet, Deb, Ph.D. 2000. The Birdie Book: An Internal Geography of Rider and Horse. This is available on her website www.equinestudies.org as a CD-ROM. It has lots of pictures and descriptions of horse body language.
Draaisma, Rachael. 2018. Language Signs and Calming Signals of Horses: Recognition and Application. (Boca Raton, Florida: Taylor and Francis Group, LLC).
McDonnell, Sue, PhD. 2003. A Practical Field Guide to Equine Behavior: The Equid Ethogram. (Lexington, Kentucky: The Blood-Horse, Inc).
Are we Trainers, or Teachers?
Kay Laurence: www.learningaboutdogs.com
Alexandra Kurland (The Click that Teaches): www.theclickercenter.com
Connection Training: http://www.connectiontraining.com/
Alexandra Kurland's blog: www.theclickercenterblog.com
Claudeen McAuliffe quote: McAuliffe, Claudeen E. 2006. Mindful Dog Training. (Oconomowoc, Wisconsin: Kindness Canine Behavior Consultants LLC), 1. This book is available from www.dogwise.com.
Kurland, Alexandra. Notes from the 2013 Equine Clicker Conference, included with her permission.
Why Do I Clicker Train?
Kathy Sdao's website: www.kathysdao.com
Kathy Sdao quote: Sdao, Kathy. 2012. Plenty in Life is Free. (Wenatchee, Washington: Dogwise), 81-82.